Telephone Hybrids - DHY-04



Iso View

Front View

Rear View
DHY-04 Single Automatic Digital TBU, AES/EBU & Analogue I/O With Ethernet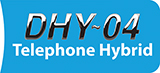 The DHY-04 telephone hybrid is an enhanced redesign of the DHY-03 , the best performing telephone hybrid in the world. It now has auto-sensing combined analogue and AES/EBU inputs and outputs, front panel speed dial buttons, together with an Ethernet interface to allow web browser access to the configuration and internal settings. All whilst still retaining stunning line balance rejection figures. For the best sounding audio calls you're likely to hear, you should specify the DHY-04.
Key new features of the unit include:
Auto-sensing combined analogue or AES/EBU XLR input.
AES/EBU sample rates up to 24 bit/96kHz accepted.
Configurable analogue or AES/EBU XLR output.
Ethernet port for remote configuration via web browser GUI.
Remote dialling and line hold control via Ethernet.
Ethernet network interface can generate SNMP Traps for SNMP management systems.
DTMF dial tone recognition for reporter remote access - a journalist can dial into the unit which can recognise a pre-programmed DTMF numeric password to automatically connect the journalist on-air.
Four front panel speed-dial buttons for dialling internally preset phone numbers.
Front panel Redial button for redialling the last number.
The DHY-04 also has the following features:
Fully automatic - adapts to varying line conditions and has automatic signal limiting.
Fully adaptive echo cancellation to 127msec - default is 24msec.
70dB typical line balance rejection offering superb performance and crystal clear audio.
Front panel input and output gain controls.
Front panel LED metering of receive and send signals.
Built-in conferencing for 2 hybrids, so that a single telco channel on a mixing desk can receive 2 calls.
Integrated ring detector - automatic call answering after a pre-determined number of rings.
Automatic call disconnection. Fitted with K-break, line polarity reversal and dial tone disconnect detection, defined by the country selection.
Automatic ducking facility allows the talent to 'shout-down', or talk over, a caller by reducing the gain of the caller's signal if it goes above a certain level.
Local and remote line hold switching - calls can be remotely switched through a mixing console.
Line hold/release button to control line hold circuit, illuminates to indicate the status of the line and flashes to show ring status.
DTMF tone recognition allowing a opto-isolated GPI output to be made on receipt of selected DTMF tones, e.g. for starting a studio automation recorder automatically to record a remote telephone interview.
International operation with built-in configurable settings for each country. Country selection allows the unit to provide line impedance and a simulation circuit to match the country.
RS232 serial port for remote control of the TBU & DTMF tone dialling.
Remote port distributes the remote line connect switch and tally output, a momentary/latch selector and the DTMF detect output.
The remote line connect switch can be either momentary or latching in its action.
Balanced mic/line input - 10k balanced input selectable for 0dBu clean feed line, or microphone level with adjustable gain.
Balanced output - 0dBu low impedance balanced output, with output gain settings.
Record output - the conferencing output can be set via a jumper to give a mix of the caller and mic/line input signals for recording both sides of the telephone conversation.
Line limiter, bandpass filter and output noise gate with preset threshold providing low distortion audio.
Built in universal power supply between 90V AC and 250V AC, 47-63Hz, IEC mains input.
ETSI approval compliant with European PTT specifications.
Sonifex Dialler
The Sonifex Dialler is a Windows ™7/8 and Windows™ 10 application for simple connection and control of a single DHY-04/G hybrid.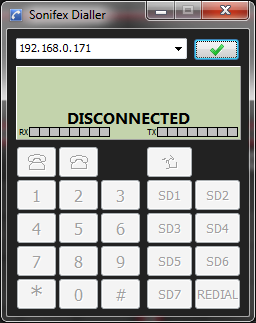 To connect to a hybrid, simply enter/select the TCP/IP address in the drop-down list at the top left of the screen, then click the connect button.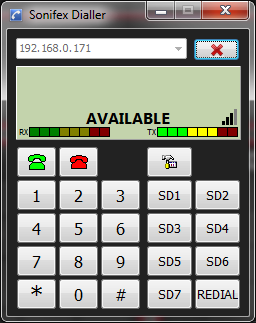 The dialler has a numeric keypad, speed dials, last number re-dial, Rx and Tx metering, status indicator.
There is also signal strength indicator when connected to a hybrid with a GSM module.
Visit our Software page to download the Sonifex Dialler >

ACMA Conformity
The DHY-04, DHY-04S & DHY-04T are fully compliant with the ACMA requirements for use in Australia and New Zealand.
Audio Specification

Analogue Audio I/O

Input Impedance - Line Mode (Clean Feed):

10kΩ balanced 0dB
Input Impedance - Conferencing:
10kΩ balanced 0dB
Input Impedance - Microphone Mode:
2kΩ balanced
Input Level Gain Range:
+6dB, 0dB, and -6dB adjusted by 3-position front panel switch, +10dB jumper
Microphone Level Gain Preset:
From 65dB to 35dB
Maximum Input Levels:

Line +26dBu, mic -24dBu
Clean Feed Limiting Input:
-4dBu for CTR21 setting, other values available *
Output Impedance - Line Out:
50Ω balanced floating 0dBu
Output Impedance - Conference/Record:
50Ω balanced floating 0dBu
Output Level Gain Range:
+6db, 0dB, and -6dB adjusted by 3-position front panel switch

Digital Audio I/O

Input Impedance:
110Ω ±20% balanced
Output Impedance:
110Ω ±20% balanced
Sample Frequency Range:
30 - 100kHz (i.e. including 32kHz, 44.1kHz, 48kHz, 64kHz, 88.2kHz & 96kHz)
Signal Level:
2V/7V peak to peak min/max
Analogue Input Level for Full Scale Digits:
+18dBU

Telephone Line

Bandwidth to Telephone Line:
250Hz - 4kHz, -3dB ref 1kHz
Telephone Line Impedance:
600Ω, 900Ω plus 14 other complex impedance circuits *
Rejection Ratio:
80-88dB on complex waveforms, reference peak level of 0dBFS
Ring Detector Sensitivity:
Off, 1, 2, 3, Off

Power Supply

Power to DHY-04, S & T
Universal 12W power supply: 90 to 250V AC; 47-63Hz; fused 1A
* These values are dependent on the actual country setting selected on the DHY-04

Connections

Mic/Line/AES-EBU Input:
XLR 3 pin female, with push-button mic/line selection
Line/AES-EBU Output:
XLR 3 pin male
Telephone Line:
RJ11 6/4 socket
Telephone Handset/Instrument:
RJ11 6/4 socket
Conferencing or Record Audio:
RJ45 socket
Remotes:
9-way D-type socket
Ethernet:
RJ45 socket
RS232 Serial:
9-way D-type socket
Power:
IEC mains (CEE22)

Accessories

Order Code
Description
DHY-04CON
Front Panel Conversion Kit, DHY-04S to DHY-04
DHY-04SCON
Front panel conversion kit, DHY-04 free standing to DHY-04S 19" (48cm) rack-mount front
DHY-04TCON
Front panel conversion kit, DHY-04 or DHY-04S, to DHY-04T 19" (48cm) rack-mount front
Physical Specification

Order Code
Description
Height
Width
Depth*
Total
Nett Weight
Total Gross Weight
DHY-04
Automatic digital telephone hybrid, free standing
4.5cm
21.8cm
17.5cm
1.4kg
2.2kg
DHY-04S
Automatic digital telephone hybrid, rack mounted
4.5cm (1U)
48.3cm
17.5cm

1.45kg
2.3kg
DHY-04T
Twin automatic digital telephone hybrid, rack mounted
4.5cm (1U)
48.3cm
17.5cm
2.80kg
4.4kg
*Depth is measured from the front to the end of the connectors fitted to the back of the unit.