Bespoke Design
Bespoke Design Services
Sonifex has been at the forefront of audio design and manufacture since 1969 and has a reputation for building high quality, reliable products.
As well as designing in-house awardwinning products, such as the Courier portable recorder, Sonifex has also undertaken a number of projects for other clients. Recent work includes a changeover unit for the GWR Group, over 1000 digital audio workstations (DAWs) for BBC World Service, over 100 PCXtender DAW units for Danish Radio, logging systems for the Finnish parliament, telephony systems for Northern Telecom, interface systems for entertainment venues and automated hard disk announcement systems for both Channel 4 TV and BBC World Service.
Sonifex has years of experience in meeting the demands of our customers. However complex the problem our skilled sales and technical support staff will answer any questions you may have regarding what is and is not possible. It may be that your requirements could be met by adapting one of our existing products saving you the time and expense of commissioning a bespoke one. Additionally, our continuous investment in new technology and other resources ensure that any cost savings are passed onto you, which means that you receive state of the art products that match your needs without damaging your pocket.
The main difference between Sonifex and other design companies is that we also manufacture the products ourselves and perform the majority of the manufacturing in-house, using our team of skilled technical staff. This means that we have detailed knowledge of the costs of designs and a knowledge of which designs can, and cannot, be implemented in practise.
We ensure that only the most cost-effective, efficient and streamlined solutions are implemented, saving you time and money. More importantly, we can control the quality of each stage of the design and manufacturing process to ensure that the products meet your specification.
As a company, Sonifex has excellent technical expertise and facilities for designing and manufacturing bespoke products. State of the art machinery is used throughout and thorough visual and electronic testing is carried out to make sure that the performance of the product matches up to expectations.
The test department provides technical support facilities for customers via telephone, fax, email or via website enquiry.
Case Study 1 - Automation Software for Channel 4 TV, UK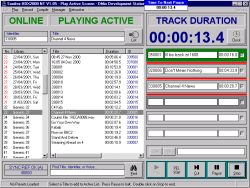 Sonifex originally supplied Channel 4 with their hard disk recording and broadcast automation system in 1998 which was a modified version of the HDX2000 broadcast automation system which Sonifex had manufactured since 1993. The idea of the Channel 4 software was to take away all the mundane aspects of presenting - no more loading cart machines, signing logs or hunting for the appropriate jingle. Continuity announcements at Channel 4 could be recorded in advance as a 'batch' and then slotted into the playlist for automatic playback.

The bespoke software automated many of the announcements via RS422 control. A prime requirement was that the solution shouldn't involve the Presentation Team in the re-keying of information, so the software takes information from the programming system and stores recordings on a daily basis depending on the playlist downloaded. The system also runs automatic delete functions for housekeeping and general maintenance purposes. The project was completed on time and within budget and is still in operation today.
Case Study 2 - Digital Audio Workstation Units for DR, Denmark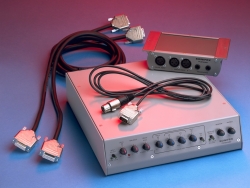 In collaboration with Interstage, Sonifex's Danish distributor, Sonifex completed a project for Danish Radio to produce 95 desktop units to connect to their existing journalist's Dalet workstations. Each desktop unit, called PCXtender, provides dual stereo analogue digital inputs to, and stereo analogue outputs from, the PCX audio cards of the Dalet workstation. Each PCXTender comprises of a rugged steel box on which a PC monitor can sit. It links to another unit which can be screw-mounted to the underside of a desk nearer the recording sources - this prevents trailing leads going across the journalist's desk. All hardware design, PCB layout, case design and manufacturing was carried out on-site at Sonifex in Irthlingborough.

Finn Juul of Interstage commented : "I've had an excellent relationship with Sonifex since 1986 so I'm aware of their areas of expertise and their abilities to carry out special design work. We didn't have much time on this project, from initial order to delivery of the first 35 units took only 8 weeks. I have been very happy with the units, they were all delivered in time for a successful installation. In fact, I've already ordered another four PCXtender units for installation in a separate project".
Case Study 3 - Digital Audio Workstation Units for BBC World Service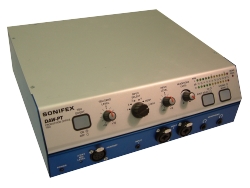 In 2002 and 2003, Sonifex won tenders to supply audio workstations to BBC World Service and BBC Local Regions. Supplied through the Oxford Sound Company, 3 different DAWs (digital audio workstations) were developed specific to BBC World Service's needs :

DAW-PT Production office DAW with integral telephone balance unit
DAW-P Production office DAW
DAW-SE Studio edit DAW

Over 1,000 of the above units were shipped within an 18 month period at the price quoted and to the planned timescale.