Telephone Hybrids - DHY-03 - Series (Digital)
DHY-03EC Automatic Digital TBU, Eurocard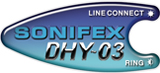 The DHY-03EC eurocard single digital telephone hybrid uses the same technology as the DHY-03 but is based in a card-style format for installation in a eurocard rack frame, or in certain broadcast mixers. Eurocards are supplied without a power supply, or casing, and are therefore significantly cheaper than the other units. It is pin compatible with the older DHY-02EC eurocard, but has the outstanding performance and most of the features of the DHY-03, with a few differences:
The analogue input is line level only, though the 10dB professional/ consumer jumper is retained.
There is no conferencing facility and consequently no record output option.
The level meters are 2 tricolour LEDs.
The level switches are now onboard 3 way jumpers.
The remote outputs are connected via slide switches which means that the output signal can be either +5V, +15V or pull down to ground.
The handset is connected to the telephone line via a divert relay.

This product has settings that can be adjusted using the Sonifex SCi (Serial Control Interface) software. To download a copy of the SCi software, please use this link >