Press Release
Sonifex Show New Dante Enabled Commentary Products at IBC 2019
6th September 2019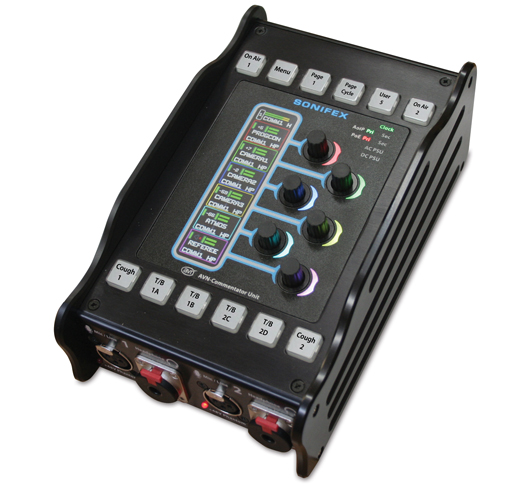 Sonifex is showing its new Dante® commentary units, the AVN-CU2-DANTE Configurable Dante Commentary Unit for 2 Commentators and the AVN-CU4-DANTE Configurable Dante Commentary Unit for 4 Commentators on stand 8.E61 at IBC 2019.
Both units use Dante® AoIP together with 4 wire connections so they bridge the gap between old and new technology, allowing the ease of connectivity & functionality of AoIP together with the legacy connections needed to operate with the existing infrastructure in some stadia and sports grounds.
The AVN-CU2-DANTE takes a new approach to provide a multi-purpose configurable tool for commentary teams. Its power lies in the impressive mix engine which overlays the usual Dante® Controller settings. Once Dante® flows have been made, inputs and outputs can be mixed freely to AoIP or physical inputs and outputs, controlled using the programmable buttons and rotary encoders, which control the gain and pan of inputs, outputs or cross-points, allowing total flexibility for different situations.
It can be used in any number of different commentary situations, controlled manually or remotely and controls can be 'locked down' so that they can't be tampered with or altered, to guarantee reliable operation. Housed in a rugged and intuitive, user-friendly package, it's a truly different way of looking at how commentary units should operate.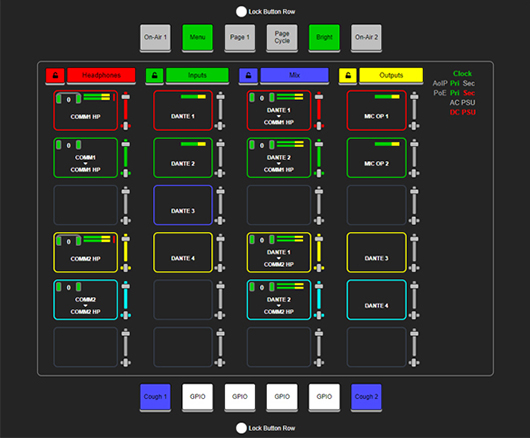 The AVN-CU2-DANTE was designed from the ground up to be totally flexible in operation and the use of Dante AoIP means that inputs and outputs can be added as required (up to a max of 16 per unit). Because any physical analogue or digital input can be mixed and routed with any Dante AoIP input to any physical output or Dante output, you can define your own audio pathways.
Additionally you can choose which of those pathways need to be controlled (volume and pan) by the use of rotary encoders. Using a built-in web GUI, up to 4 nameable pages of 6 rotary encoders (24 in total) can be placed on the mix matrix at inputs, outputs or cross-points. Each rotary encoder has a separate colour-coded meter section showing the channel name, detailed level metering and left/right panning on a bright daylight reading display. Colours can be programmed per encoder to quickly identify particular source groups, so headphone source selection becomes intuitive.
The AVN-CU2-DANTE provides two mic/line inputs with a wide, adjustable gain range and has two stereo headphone outputs with lockable jack sockets, suitable for operation by two commentators.
It's powered using Power over Ethernet (PoE), using Neutrik EtherCON connectors, with primary and secondary ports for power and data redundancy. There's an additional 4 pin XLR 12V DC input.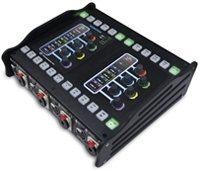 The AVN-CU4-DANTE is a portable commentator unit using Dante® AoIP. It is a dual version of the AVN-CU2-DANTE providing four mic/line inputs with a wide, adjustable gain range and four stereo headphone outputs with lockable jack sockets, suitable for operation by three or four commentators.
Fully featured, this unit allows you to handle virtually any commentary situation with both Dante AoIP and 4 wire connections, dual redundant Dante networking and multiple AC/DC/PoE power options. Up to 48 rotary encoders can be used on inputs, outputs or cross-points, allowing talkback feeds, commentary and audio mixing to be handled in one unit.
It has an abundance of 4 wire connections on the rear panel: 4 x analogue line inputs on XLR sockets with latching locks, 6 x analogue line outputs on XLR plugs and an RJ45 AES3 stereo input & output. These connections can act as a simultaneous analogue backup to the Dante AoIP connections.
The front panel houses 4 x locking mic/line inputs with +48V phantom power indication and 4 x headphone outputs on locking 6.35mm jack sockets.
The unit has dual redundant network ports on both RJ45 (PoE+ using 2 x Neutrik EtherCON® connectors) and SFP cages.
To power the unit, as well as the dual PoE ports and 12V 4 pin XLR DC input, there is an AC mains input on an IEC inlet, with a universal supply.
For pricing, please contact sales@sonifex.co.uk or call +44 1933 650 700.