Headphone Amplifiers



Iso View

Front View

Rear View
CM-HPX1 Headphone Volume Control
This product allows the connection of a stereo balanced line input via 2 x female XLRs and creates a headphone output, with level control.
It is transformer balanced, and can be used with any headphones above 150Ω impedance. The transformer ratio of 2:1 ensures that any headphone load presented at the output is reflected through to the input at a 1:4 ratio (hence a 150Ω set of headphones looks like 600Ω at the input, a suitable load for most good quality line output stages).
Block Diagram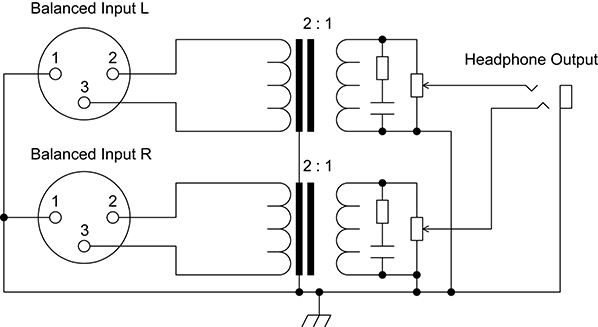 Connectors & Controls
Headphone Output
The stereo headphone output uses a stereo 6.35mm jack socket with the following connections:
| | |
| --- | --- |
| Pin Type | Connection |
| Tip: | Left |
| Ring: | Right |
| Screen: | Ground |
The headphone level will be at half the level of
the incoming signal with the volume control at 100%.
Volume Level Control
The volume level control sets the output level of the stereo headphone socket and runs logarithmically from zero to the maximum output level.
Analogue Inputs CM-HPX1
The stereo analogue input is on two female 3 pin
XLR connectors with the following pin assignments:
Pin 1: 0V Common
Pin 2: Phase
Pin 3: Non Phase
CM-HPX1 Technical Specification

Audio Specification

Input/Output Level Ratio:
2:1
Input/Output Impedance Ratio:
4:1
Minimum Headphone Impedance:
150Ω
Max Input Level:
+28dBu
Max Output Level:
+22dBu
Frequency Response:
20Hz to 20kHz, +0/-0.5dB
Noise:
<-115dBu A-wgtd
Distortion Ref +8dBu (Output):
<0.01%
Common Mode Rejection:
>80dB

Connections

Main Stereo Input (CM-HPX1):
2 x XLR 3 pin, female
Output:
¼" (6.35mm) A/B gauge 3-pole stereo jack sockets

Equipment Type

CM-HPX1:
Headphone volume control, XLR input

Physical Specification

Dimensions (Raw):
7.7cm (W) x 8.3cm (D) x 4.2cm (H)
3.0" (W) x 3.3" (D) x 1.7" (H)
Dimensions (Boxed):
12.7cm (W) x 22.9cm (D) x 7.6cm (H)
5" (W) x 9" (D) x 3" (H)
Weight:
Nett: 0.22kg Gross: 0.33kg
Nett: 0.49lbs Gross: 0.73lbs