Mixing Consoles - S2 Script Space
S2 Script Space (S2-7SS)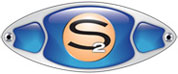 The script space occupies an area of 7 channel widths, and is designed to hold documents or scripts for the mixer operator when desk space is at a premium. The S2-7SS Script Space is 266mm wide x 390mm deep.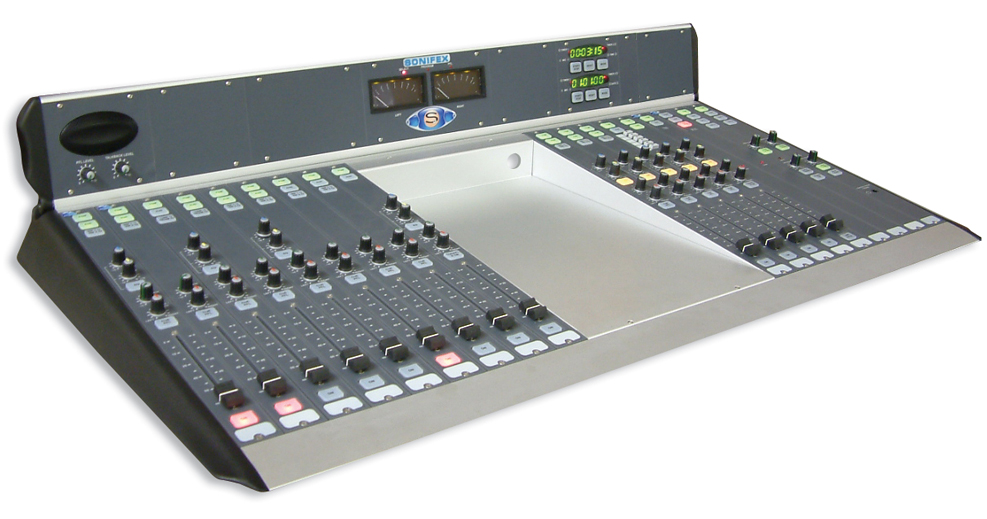 S2 Script Space (S2-10SS)
This script space is 10 channels wide and is large enough for a small keyboard.The S2-10SS Script Space is 380mm wide x 390mm deep.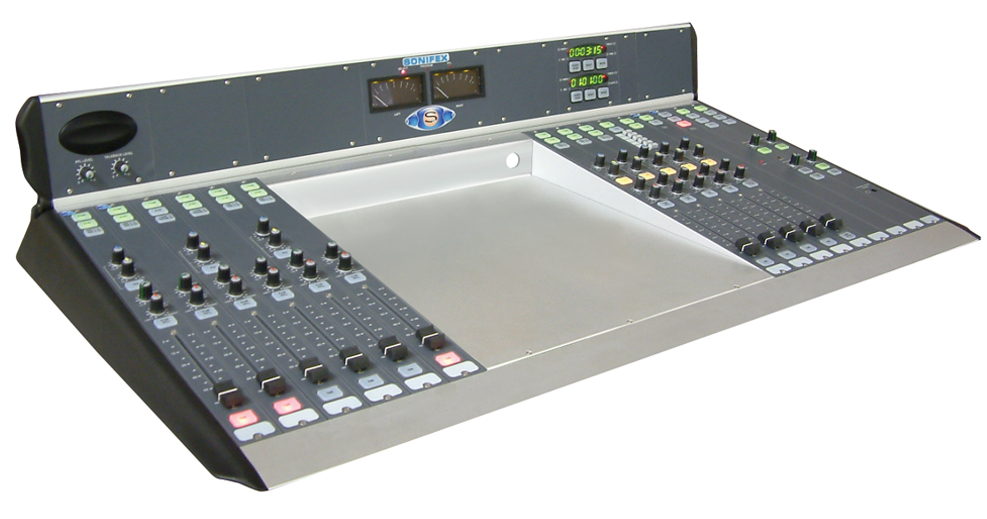 Technical Specification For S2

Input/Output Impedances

Mic Input:
> 1k5Ω electronically balanced

Mono Line Input:
> 20kΩ electronically balanced
Stereo Line Input:
> 20kΩ electronically balanced
PGM & AUD Output:
< 75Ω electronically balanced

Mono Output:
< 75Ω electronically balanced
Monitor Outputs:
< 75Ω unbalanced

AES Input/Output:
110Ω

S/PDIF Input/Output:
75Ω
BNC Wordclock input:
50Ω

Input/Output Gain Range

Mic Input:
Preset pot +13dB to +66dB ref -50dBu, TRIM pot ±12dB

Mono Line Input:
Preset pot -6dB to +10dB ref 0dBu, TRIM pot ±12dB

Stereo Line Input:
Preset pot -6dB to +10dB ref 0dBu, TRIM pot ±12dB

Telco Input:
Preset pot -6dB to +10dB ref 0dBu, TRIM pot ±12dB
Telco Output:
Preset pot -6dB to +4dB ref 0dBu
Mix Minus Input:
Preset pot -6dB to +10dB ref 0dBu, TRIM pot ±12dB
Mix Minus Output:
Preset pot -3dB to +3dB ref 0dBu
Digital Input:
0dBFS = +12dBu on input; TRIM pot ±12dB allowing 0dBu to +24dBu
Digital Output:
0dBFS = +18dBu

Frequency Response

Mic Input:
40Hz to 20kHz, -1dB,+0dB (-3dB at 130Hz with HPF in)
Line Inputs:
20Hz to 20kHz, - 0.5dB,+0dB
RIAA Input:
30Hz to 16kHz ±1.5dB RIAA equalised


Noise (20Hz to 20kHz)

Mic Input E.I.N.:
-129dB with 150Ω source
Stereo Inputs (fader down, no routing):
-89dB ref 0dB
Stereo Inputs (fader down, one channel routed):
-89dB
Stereo Inputs (unity gain, no routing):
-89dB
Stereo Inputs (unity gain, one channel routed):
-86dB
Stereo Inputs (unity gain, two channels routed):
-83dB
Distortion
Total Harmonic Distortion:
0.015% at 1kHz, 0dB
0.025% at 10kHz, 0dB

Crosstalk

Inter-channel:
< -90dBu
Stereo:
-90dBu at 1kHz

Equalisation

LF Shelving at 100Hz:
±7dB
HF Shelving at 6.5kHz:
±7dB


Range

Pan Range:
off/-3dB centre/off

Balance Range:
±6dB

Common Mode Rejection Ratio

Mic Input:
> 100dB at 70dB gain

Digital I/O

Sync Input Sample Rate:
30kHz - 100kHz
Output Sample Rates (Using Onboard Clock):

32kHz, 44.1kHz, 48kHz, & 96kHz

Output Sample Width:
16, 20, 24 bit (24 bit on V2 ODA/ODP)

Output

Headphone Output Load:
>45Ω, 400Ω recommended
Maximum Output (Analogue):
+26dBu balanced into 2kΩ or greater

Power

Power (S2-PSU):
Filtered IEC, switchable 115V, 230V, fused, 210W max.
Dimensions (S2-PSU):
(Raw):
48cm (W) x 24.3cm (D) x 8.8cm (H)
19" (W) x 10" (D) x 3.5" (H)
Dimensions (S2-PSU):
(Boxed):
51cm (W) x 41.5cm (D) x 17cm (H)
20" (W) x 16.3" (D) x 6.7" (H)
Weight (S2-PSU):
Nett: 6kg Gross: 7.8kg
Nett: 13.2lbs Gross: 17lbs
Dimensions (S2-PSUS):
(Raw):
48cm (W) x 23cm (D) x 4.4cm (H)
19" (W) x 9" (D) x 1.7" (H)
Dimensions (S2-PSUS):
(Boxed):
55cm (W) x 39.3cm (D) x 8.5cm (H)
21.6" (W) x 15.5" (D) x 3.4" (H)
Weight (S2-PSUS):
Nett: 1.58kg Gross: 2kg
Nett: 3.5lbs Gross: 4.4lbs